About Us
9th Kitchen is a Chinese takeaway in Sheldon. Why don't you try our Chicken with Hoisin Sauce or Shrimp Omelette?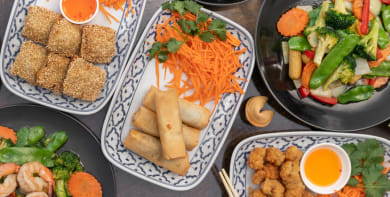 Reviews
638 reviews
John
"Tasty and chicken was so full of flavour, ordered a chicken and mushroom curry :))) chicken sweet and sour canton style :))) All good!"
08/05/2021
Claire
"Food lovely and hot, arrived in good time"
03/05/2021
Jasbir
"First time I've ordered from 9th kitchen and the food was outstanding and delicious Big thank you and yes will be ordering again 😊"
27/04/2021
Vicky
"Never used this place before, but will be back!! ☺️"
24/04/2021
Menu
Crabmeat & Sweetcorn Soup
£2.90
King Prawn & Lettuce Soup
£3.00
Vegetarian Mini Spring Roll (8)
£2.90
Crispy Wonton with Dip (6)
£2.90
Sesame King Prawn on Toast (4)
£3.50
King Prawn Pancake Rolls (8)
£4.20
Dim Sum Combo
Spare ribs, chicken wings, mini spring rolls, samosa & sesame prawn on toast with dip
£6.50
Roast Combo
Roast duck & roast pork with dip
£6.00
Spare Ribs with Lemon Small
Dry
£4.00
Spare Ribs with Lemon Large
Dry
£5.70
Spare Ribs with BBQ Sauce Small
£4.00
Spare Ribs with BBQ Sauce Large
£5.70
Spare Ribs with Fruity Sauce Small
£4.00
Spare Ribs with Fruity Sauce Large
£5.70
Chicken Wings with BBQ Sauce
£4.30
Chicken Wings with Fruity Sauce
£4.30
Aromatic Crispy Duck Quarter (12 Pancakes)
£8.50
Aromatic Crispy Duck Half (18 Pancakes)
£16.50
Salt & Pepper Chicken Wings
£4.30
Salt & Pepper Chicken Pieces
£5.20
Salt & Pepper Pork Pieces
£5.20
Salt & Pepper Shredded Beef
£5.50
Chicken in Garlic & Chilli Sauce
£5.40
Beef in Garlic & Chilli Sauce
£5.40
King Prawn in Garlic & Chilli Sauce
£5.80
Chicken in Szechuan Sauce
£5.40
King Prawn in Szechuan Sauce
£5.80
Mixed Vegetables in Szechuan Sauce
£4.60
Kung Po Chicken with Cashew Nuts
£5.70
Kung Po Beef with Cashew Nuts
£5.70
Kung Po King Prawn with Cashew Nuts
£5.90
Chicken Macau
Macau style curry
£5.40
Beef Macau
Macau style curry
£5.40
Chi-Lo Chicken
Pickled ginger & pineapple
£5.40
Chi-Lo Beef
Pickled ginger & pineapple
£5.40
Chi-Lo Duck
Pickled ginger & pineapple
£5.70
Par-Po Chicken
Mixed vegetables & cashew nuts
£5.50
Par-Po King Prawn
Mixed vegetables & cashew nuts
£5.90
Shredded Beef in Fruity Sauce
£5.40
Chicken with Ginger & Spring Onions
£5.40
Beef with Ginger & Spring Onions
£5.40
King Prawn with Ginger & Spring Onions
£5.80
King Prawn with Soya Sauce
£5.80
Chicken with Black Pepper Sauce
£5.40
Beef with Black Pepper Sauce
£5.40
King Prawn with Black Pepper Sauce
£5.80
Chicken Chop Suey in Oyster Sauce
£5.40
Chicken with White Mushrooms
£5.40
Chicken with Chinese Straw Mushrooms
£5.40
Chicken with Bamboo Shoots & Water Chestnuts
£5.40
Chicken with Bean Sprouts
£5.40
Chicken with Green Pepper in Black Bean Sauce
£5.40
Chicken with Hoisin Sauce
£5.40
Beef Chop Suey in Oyster Sauce
£5.40
Beef with White Mushrooms
£5.40
Beef with Chinese Straw Mushrooms
£5.40
Beef with Bamboo Shoots & Water Chestnuts
£5.40
Beef with Green Pepper in Black Bean Sauce
£5.40
Char Sui Chop Suey in Oyster Sauce
£5.30
Char Sui with White Mushrooms
£5.30
Char Sui with Bamboo Shoots & Water Chestnuts
£5.30
Char Sui with Bean Sprouts
£5.30
Char Sui with Green Pepper in Black Bean Sauce
£5.30
Char Sui with Hoisin Sauce
£5.30
Duck Chop Suey in Oyster Sauce
£5.70
Roast Duck with Plum Sauce
£5.90
Roast Duck with Orange Sauce
£5.90
Duck with White Mushrooms
£5.70
Duck with Bamboo Shoots & Water Chestnuts
£5.70
Duck with Green Peppers in Black Bean Sauce
£5.70
King Prawn Chop Suey in Oyster Sauce
£5.80
King Prawn with White Mushrooms
£5.80
King Prawn with Chinese Straw Mushrooms
£5.80
King Prawn with Bamboo Shoots & Water Chestnuts
£5.80
King Prawn with Green Pepper in Black Bean Sauce
£5.80
King Prawn with Hoisin Sauce
£5.80
King Prawn with Pineapple
£5.80
Char Sui Curry
Roast pork
£5.70
Char Sui Satay
Roast pork
£5.40
Sweet & Sour Chicken Balls
£5.50
Sweet & Sour King Prawn Balls
£5.80
Sweet & Sour Chicken
Cantonese style
£5.50
Sweet & Sour King Prawn
Cantonese style
£5.80
Sweet & Sour Pork
Cantonese style
£5.50
Special Fried Rice
Mixed meat & vegetable in sauce, two separate container
£5.80
Char Sui Fried Rice
Roast pork
£5.20
Special Chow Mein
Mixed meat & vegetable in sauce, two separate container
£5.80
King Prawn Chow Mein Juicy
£5.80
Char Sui Foo Yung
Roast pork
£5.30
Stir Fried Pak Choi
Chinese cabbage
£3.70
Stir Fried White Mushrooms
£2.80
Bamboo Shoots & Water Chestnuts
£2.80
Mixed Vegetable Fried Rice
£4.50
Mixed Vegetable Chow Mein
£4.50
Mixed Vegetable in Soya Sauce
£4.30
Mixed Vegetables in Oyster Sauce
£4.30
Mixed Vegetables in Black Bean Sauce
£4.30
Mixed Vegetables in Sweet & Sour Sauce
£4.30
Fried Rice & Chips in Curry Sauce
£4.00
Set Meal A (For 1 Person)
• Sweet & sour chicken balls (5)
• Chicken & white mushrooms
• Egg fried rice
£8.50
Set Meal B (For 2 Persons)
• Sweet & sour chicken (Cantonese style)
• Chicken & white mushrooms
• Beef with beansprout
• Yeung chow fried rice (2)
• Prawn crackers
£20.00
Set Meal C (For 3 Persons)
• Sesame king prawn on toast (6)
• Sweet & sour chicken (Cantonese style)
• Beef in satay sauce
• King Prawn with With Mushrooms
• Chicken Chop Suey
• Yeung chow fried rice (3)
• Prawn crackers
£29.50
Chicken Fried Rice, Chips & Sauce
£5.80
Chickn Balls (5), Fried Rice, Chips & Sauce
£5.90
Salt & Pepper Ribs with Fried Rice
£4.50
Salt & Pepper Ribs with Chow Mein
£4.80
Contact Us
Find Us
397 Sheldon Heath Road, Sheldon, B262UB
We deliver to
B25, B26, B27, B33, B34, B36, B37, B91, B92