About Us
9th Kitchen is a Chinese takeaway in Sheldon. Why don't you try our Chicken with Hoisin Sauce or Shrimp Omelette?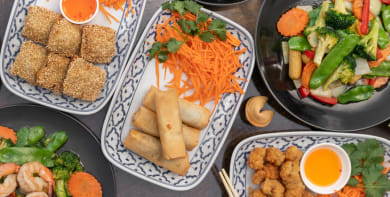 Reviews
493 reviews
David
"Food was hot and tasty with big prawns BUT it was swimming in oil. Shame really because its was way better than most I've had recently.... an 7 outa 10"
06/08/2020
Tanysha
"I have ordered from here many times, the food is always fresh and hot when it arrives and tastes good. Will defo order again soon :)"
06/08/2020
Juliet
"Lovely tasty hot food"
31/07/2020
Leah
"can't fault any part of this delivery"
27/07/2020
Menu
Crabmeat & Sweetcorn Soup
£2.90
King Prawn & Lettuce Soup
£3.00
Char Sui with Bamboo Shoots & Water Chestnuts
£5.30
Char Sui with Bean Sprouts
£5.30
Char Sui with Green Pepper in Black Bean Sauce
£5.30
Char Sui with Hoisin Sauce
£5.30
Char Sui with White Mushrooms
£5.30
Char Sui Chop Suey in Oyster Sauce
£5.30
Beef in Garlic & Chilli Sauce
£5.40
Chicken in Garlic & Chilli Sauce
£5.40
Chicken in Szechuan Sauce
£5.40
King Prawn in Garlic & Chilli Sauce
£5.80
King Prawn in Szechuan Sauce
£5.80
Kung Po Beef with Cashew Nuts
£5.70
Kung Po Chicken with Cashew Nuts
£5.70
Kung Po King Prawn with Cashew Nuts
£5.90
Mixed Vegetables in Szechuan Sauce
£4.60
Salt & Pepper Chicken Pieces
£5.20
Salt & Pepper Chicken Wings
£4.30
Salt & Pepper Pork Pieces
£5.20
Salt & Pepper Shredded Beef
£5.50
Chicken with Chinese Straw Mushrooms
£5.40
Chicken with Green Pepper in Black Bean Sauce
£5.40
Chicken with Hoisin Sauce
£5.40
Chicken with White Mushrooms
£5.40
Chicken Chop Suey in Oyster Sauce
£5.40
Chicken with Bamboo Shoots & Water Chestnuts
£5.40
Chicken with Bean Sprouts
£5.40
Set Meal A (For 1 Person)
• Sweet & sour chicken balls (5)
• Chicken & white mushrooms
• Egg fried rice
£8.50
Set Meal B (For 2 Persons)
• Sweet & sour chicken (Cantonese style)
• Chicken & white mushrooms
• Beef with beansprout
• Yeung chow fried rice (2)
• Prawn crackers
£20.00
Set Meal C (For 3 Persons)
• Sesame king prawn on toast (6)
• Sweet & sour chicken (Cantonese style)
• Beef in satay sauce
• King Prawn with With Mushrooms
• Chicken Chop Suey
• Yeung chow fried rice (3)
• Prawn crackers
£29.50
Duck with Bamboo Shoots & Water Chestnuts
£5.70
Duck with Green Peppers in Black Bean Sauce
£5.70
Duck with White Mushrooms
£5.70
Roast Duck with Orange Sauce
£5.90
Roast Duck with Plum Sauce
£5.90
Duck Chop Suey in Oyster Sauce
£5.70
Beef Chop Suey in Oyster Sauce
£5.40
Beef with Bamboo Shoots & Water Chestnuts
£5.40
Beef with Chinese Straw Mushrooms
£5.40
Beef with White Mushrooms
£5.40
Beef with Green Pepper in Black Bean Sauce
£5.40
Chicken Fried Rice, Chips & Sauce
£5.80
Chickn Balls (5), Fried Rice, Chips & Sauce
£5.90
Salt & Pepper Ribs with Fried Rice
£4.50
Salt & Pepper Ribs with Chow Mein
£4.80
Bamboo Shoots & Water Chestnuts
£2.80
Mixed Vegetable Chow Mein
£4.50
Mixed Vegetable Fried Rice
£4.50
Mixed Vegetable in Soya Sauce
£4.30
Mixed Vegetables in Black Bean Sauce
£4.30
Mixed Vegetables in Oyster Sauce
£4.30
Mixed Vegetables in Sweet & Sour Sauce
£4.30
Stir Fried Pak Choi
Chinese cabbage
£3.70
Stir Fried White Mushrooms
£2.80
Fried Rice & Chips in Curry Sauce
£4.00
King Prawn Chow Mein Juicy
£5.80
Special Chow Mein
Mixed meat & vegetable in sauce, two separate container
£5.80
King Prawn Chop Suey in Oyster Sauce
£5.80
King Prawn with Bamboo Shoots & Water Chestnuts
£5.80
King Prawn with Green Pepper in Black Bean Sauce
£5.80
King Prawn with Hoisin Sauce
£5.80
King Prawn with Pineapple
£5.80
King Prawn with White Mushrooms
£5.80
King Prawn with Chinese Straw Mushrooms
£5.80
King Prawn with Ginger & Spring Onions
£5.80
King Prawn with Soya Sauce
£5.80
King Prawn with Black Pepper Sauce
£5.80
Par-Po Chicken
Mixed vegetables & cashew nuts
£5.50
Par-Po King Prawn
Mixed vegetables & cashew nuts
£5.90
Beef with Ginger & Spring Onions
£5.40
Beef with Black Pepper Sauce
£5.40
Beef Macau
Macau style curry
£5.40
Chi-Lo Beef
Pickled ginger & pineapple
£5.40
Chi-Lo Chicken
Pickled ginger & pineapple
£5.40
Chi-Lo Duck
Pickled ginger & pineapple
£5.70
Chicken with Black Pepper Sauce
£5.40
Chicken Macau
Macau style curry
£5.40
Chicken with Ginger & Spring Onions
£5.40
Shredded Beef in Fruity Sauce
£5.40
Char Sui Curry
Roast pork
£5.70
Char Sui Fried Rice
Roast pork
£5.20
Special Fried Rice
Mixed meat & vegetable in sauce, two separate container
£5.80
Char Sui Satay
Roast pork
£5.40
Sweet & Sour Chicken
Cantonese style
£5.50
Sweet & Sour Chicken Balls
£5.50
Sweet & Sour King Prawn
Cantonese style
£5.80
Sweet & Sour King Prawn Balls
£5.80
Sweet & Sour Pork
Cantonese style
£5.50
Char Sui Foo Yung
Roast pork
£5.30
Chicken Wings with BBQ Sauce
£4.30
Chicken Wings with Fruity Sauce
£4.30
Dim Sum Combo
Spare ribs, chicken wings, mini spring rolls, samosa & sesame prawn on toast with dip
£6.50
Aromatic Crispy Duck Half (18 Pancakes)
£16.50
Aromatic Crispy Duck Quarter (12 Pancakes)
£8.50
Crispy Wonton with Dip (6)
£2.90
King Prawn Pancake Rolls (8)
£4.20
Roast Combo
Roast duck & roast pork with dip
£6.00
Sesame King Prawn on Toast (4)
£3.50
Spare Ribs with BBQ Sauce Large
£5.70
Spare Ribs with BBQ Sauce Small
£4.00
Spare Ribs with Fruity Sauce Large
£5.70
Spare Ribs with Fruity Sauce Small
£4.00
Spare Ribs with Lemon Large
Dry
£5.70
Spare Ribs with Lemon Small
Dry
£4.00
Vegetarian Mini Spring Roll (8)
£2.90
Contact Us
Find Us
397 Sheldon Heath Road, Sheldon, B262UB
We deliver to
B25, B26, B27, B33, B34, B36, B37, B91, B92